Contact
American Freeze-Dry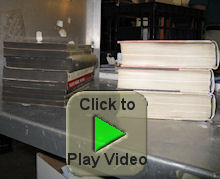 When in Doubt
DON'T throw it out!
At American Freeze-Dry we maintain the highest standards in freeze-drying, deodorizing, cleaning and sanitizing documents, ledgers, books, blueprints and much more.
Water

Remove moisture from documents, files, ledgers, and blueprints using Freeze-dry Technology.

Fire

Remove soot and odors from fire damaged materials.

Mold

Kill mold spores on affected materials.